82 Centre Street North Oshawa, Ontario Tel: 905-432-2882
*UPDATE* - Our store is open at this time. In order to ensure the safety of our customers and employees we ask that you follow best practices of social distancing and use credit and debit for purchases. We will continue to monitor the situation and keep you, our great customers informed of any changes. Feel free to call us if you have any questions or concerns.
Thank you and God bless.
Store Hours: Tuesday to Friday 10:00am to 5:00pm, Saturday 10:00am to 4:00pm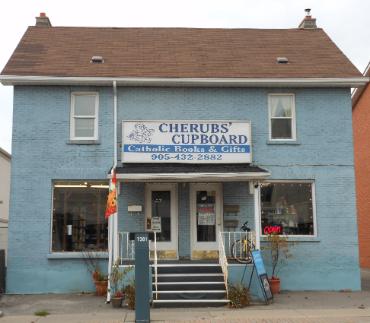 About Us
Cherubs' Cupboard is a family operated Catholic Book & Gift Store that has been serving the Durham Region for over 25 years.
Located in Oshawa, ON we are your local source for Sacramentals, books, rosaries, statues, and gifts for Baptism, Communion, Confirmation and Weddings.
Please feel free to view our various religous products and be sure to call us if you have any questions.
Thank you for your patronage.
Some Events, Custom Gifts and Services we are known for
---

Cherubs' Cupboard often has year round displays at various Catholic Churches in the Durham Region, Peterborough and Unionville areas.
For more information on where we'll be next give us a call.

We offer custom graduation imprinting for all your Bibles, Books or Bulletins. Call us for your custom imprinting questions and we would be happy to provide you with a quote

EXCLUSIVE TO CHERUBS' CUPBOARD
Cherubs' Cupboard offers Rosary Kits which are ideal for Catholic School Classrooms or any size Catholic Church Youth Groups.
82 Centre Street North, Oshawa, ON | 905-432-2882